From Tailgates to Hayrides: Fall Adventures in Greenville, NC
Posted by Tyre Realty Group on Tuesday, October 24, 2023 at 2:28:04 PM
By Tyre Realty Group / October 24, 2023
Comment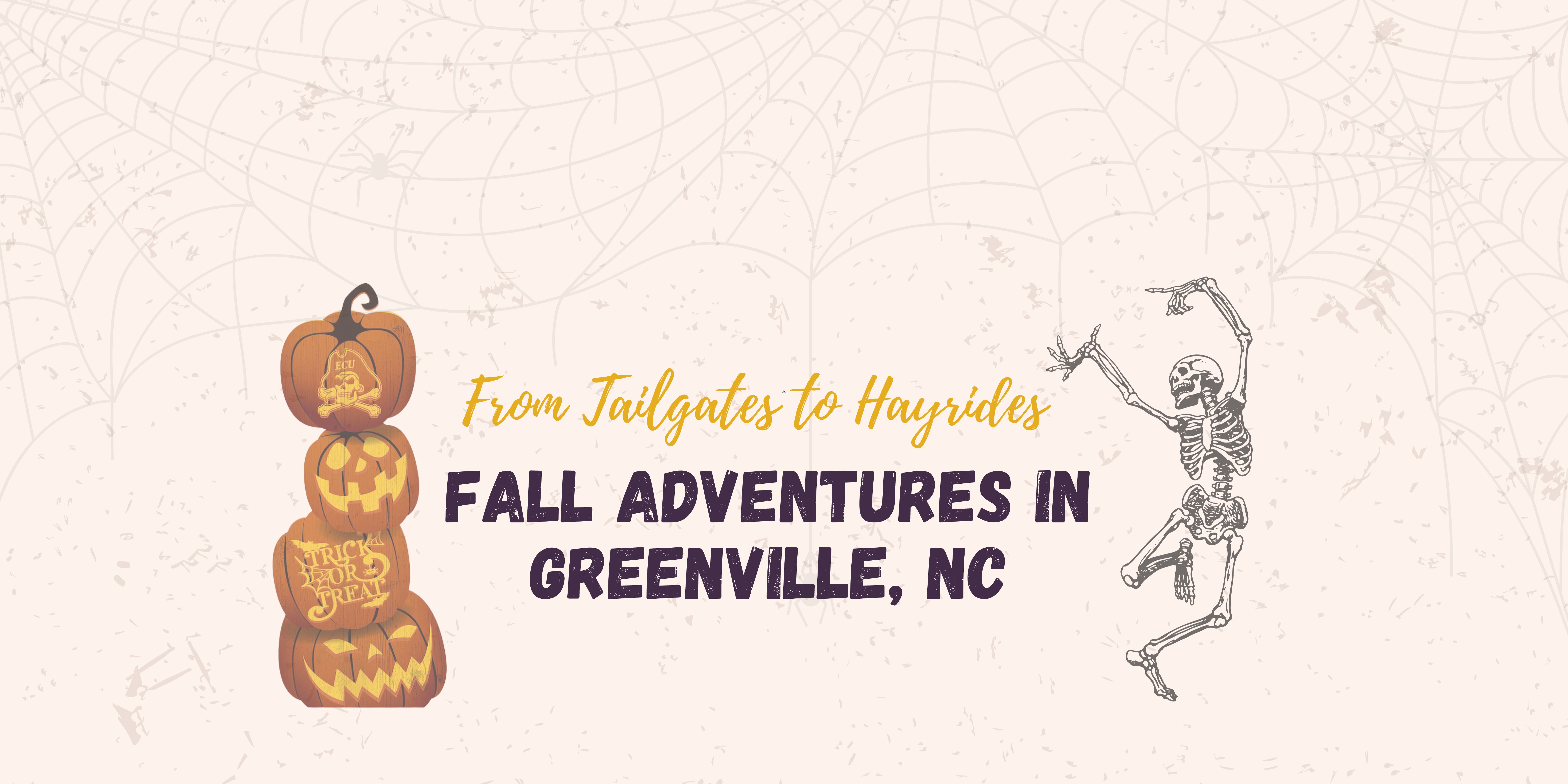 From Tailgates to Hayrides: Fall Adventures in Greenville, NC
Fall has arrived, and Greenville, North Carolina, is bursting with the vibrant colors, crisp air, and countless opportunities for memorable autumn experiences. Whether you're an ECU Pirates fan gearing up for game day or simply looking to embrace the best of the fall season, Greenville and its surroundings offer a diverse array of activities. From pumpkin patches to spooky trails, here are the top six fall adventures you won't want to miss:
1. Stokes Family Farm: Harvest Fun for All Ages
Stokes Family Farm is a must-visit for those seeking a genuine taste of fall. This family-owned farm, founded by Chris Stokes in 2019, is a living tribute to his father's farming legacy. Wayne Stokes, a native of Pitt County, instilled his passion for farming in his son, and now, the farm welcomes families for a day of agricultural exploration.
From petting zoos and playgrounds to delightful hayrides, Stokes Family Farm provides a fun and educational experience for all. Don't forget to pick your perfect pumpkin, ideal for fall decor and carving your spookiest jack-o'-lanterns. Check their website for more details and plan your visit for a day filled with farm adventures.
https://stokesfamilyfarmnc.com/
2. Briley's Farm Market: Chart a Course through the Pirate Corn Maze
If you're a fan of classic fall fun, Briley's Farm Market is your go-to destination. This farm offers a unique ECU Pirate-themed corn maze that's sure to entertain visitors of all ages. As you navigate the twists and turns of this maze, you'll enjoy a fun challenge and perhaps find your way to the treasure at the end.
Additionally, Briley's Farm Market is an excellent spot to find pumpkins. You can even carve jack-o'-lanterns right on-site, sparing you the mess and hassle of doing it at home. Learn more on their website.
https://www.brileysfarmmarketnc.com/
3. Halloweeni Jamboreeni: The Addams Family Invades Greenville
Get ready for a spook-tacular time at the 2023 Halloweeni Jamboreeni, taking place at the Greenville Museum of Art on October 28th. This family-friendly event promises a day filled with arts and crafts, games, performances, and, of course, an abundance of candy. This year, it's all about the Addams Family, bringing a touch of macabre to your Halloween celebrations.
Dress up your little ghouls and goblins in their finest costumes and immerse yourself in the creative and imaginative atmosphere of this interactive event. Visit their website for more details. It's a perfect way to get into the Halloween spirit with your family.
https://www.gmoa.org/event-details/halloweeni-jamboreeni-1
4. Frightland Haunted Trail at Dreamland Escapes: A Spine-Tingling Adventure
For those who relish spine-tingling scares, Frightland Haunted Trail at Dreamland Escapes in Ayden, NC, is a must-visit. This trail is not for the faint of heart, and you should prepare for a night filled with hair-raising thrills as you navigate through this chilling attraction.
5. Cherry Oak Pumpkin Festival: A Community Extravaganza
Join the Cherry Oaks Neighborhood for the third annual Pumpkin Festival on October 28, 2023, from 1:00 PM to 4:00 PM. This event brings together local artisans, small business owners, and home improvement vendors, making it a perfect opportunity to kickstart your holiday shopping, revamp your home decor, and get your house ready for the festive season.
Of course, no Pumpkin Festival is complete without pumpkins! Thanks to Briley's Farm, there will be free pumpkins for families to carve on-site, eliminating the mess and ensuring you have more time for family fun and fall festivities.
6. ECU Football Game Tailgating: A Fall Tradition
Don't miss the excitement of ECU Pirates football games this fall. Before the kickoff, join the passionate fans and tailgate your favorite team. Enjoy delicious food, camaraderie, and the beautiful fall weather as you prepare to cheer on the Pirates to victory. It's a fall tradition that brings friends and families together, creating unforgettable memories.
Greenville, NC, and the surrounding areas are bursting with fall activities that cater to all tastes and preferences. Whether you're looking for family-friendly fun, spine-tingling thrills, community celebrations, or the excitement of game day, this fall season is ripe with opportunities. So, slip into your coziest sweater, grab a pumpkin-spiced latte, and make the most of this enchanting time of year.