Buyer Basics: Part 2 - Financing (A Brief Overview)
Posted by Homer Tyre on Friday, July 19, 2019 at 5:00 PM
By Homer Tyre / July 19, 2019
Comment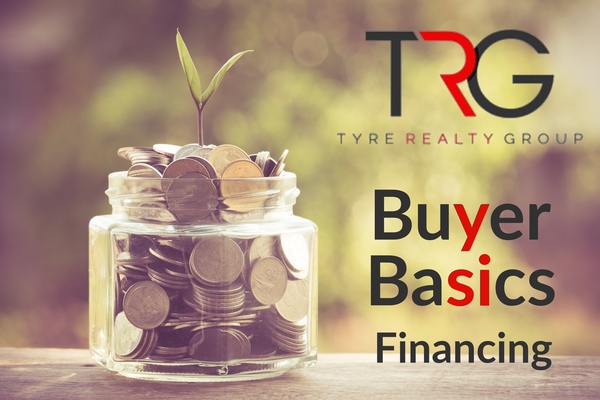 As we had discussed in the first installment of this series, Tyre Realty Group understands the home buying process may be stressful. Our goal is to minimize the stress for our buyers during the transaction. Since finance is the largest aspect of home buying, it is probably the most stressful as well.
According to the National Association of Realtors, in 2018, eighty-eight percent of home buyers financed their home. Since obtaining a mortgage is popular, most potential purchasers are worried about the down payment required when financing a home. In this same 2018 publication, the NAR reported that fifty-nine percent of buyers used their savings for their down payment. Of this fifty-nine percent, forty-three percent of the people saved for six months or less to reach this goal.
When choosing which loan is best to utilize, the topic of down payment always arises. In this blog, we will focus on the most common financing options: Conventional, FHA, USDA, and VA. Each different loan type has a different minimum down payment required.
Conventional home loans are not government backed. However, they do meet the lending requirements of both Fannie Mae and Freddie Mac, which buy most of the mortgages in the U.S. The minimum FICO credit score to qualify for a conventional home loan is 620 and a debt-to-income ratio must be below forty-three percent. A conventional home loan can be used to purchase single-family home, duplexes, 2-4-unit properties, condos and townhomes. The minimum down payment for a conventional home loan is 5 percent of the sales price.
The most popular loan type used is provided by the Federal Housing Administration or FHA. An FHA home loan is a federally backed home loan that has been helping the people purchase both single family and multi-family homes since 1934. To qualify for an FHA home loan, your FICO score must be above 580, your debt-to-income ratio must be below forty-three percent, the home must be the primary residence, and mortgage insurance premium is required. The minimum down payment for an FHA home loan is 3.5 percent of the sales price.
The Department of US Agriculture Rural Development (USDA) loan program is a 100 percent financing option. Meaning, there is zero down payment required when utilizing this loan. However, there are some caveats. To qualify for this loan type, the borrower must have a FICO score of at least 620. This loan type is meant to help low to moderate income households achieve their goal of purchasing a home. To maintain the integrity of this loan type, there a potential borrower may not exceed an income threshold. Also, USDA loans are meant to service rural areas and certain homes. Visit https://eligibility.sc.egov.usda.gov/eligibility/welcomeAction.do to find out more information on eligibility.
Lastly, veterans can elect to use their VA eligibility for a VA home loan through the Veterans Affairs. The minimum FICO score for this loan is 620. This is also a 100 percent financing option for our veterans. Plus, this loan does not require private mortgage insurance. While we can argue about the effectiveness of the VA for our veterans, one of the exceptional things they do correctly is this loan type.
When thinking about loan types, our office highly recommends contacting a loan officer. A loan officer will be able to provide more in-depth information on the different mortgage options. Choosing which home loan to service your home purchase is a critical step. If you need assistance in contacting a lender, feel free to call us at (252) 758-HOME, and we can point you in the correct direction.