Buyer Basics: Part 1 - Affordability
Posted by Homer Tyre on Friday, July 19, 2019 at 5:00 PM
By Homer Tyre / July 19, 2019
Comment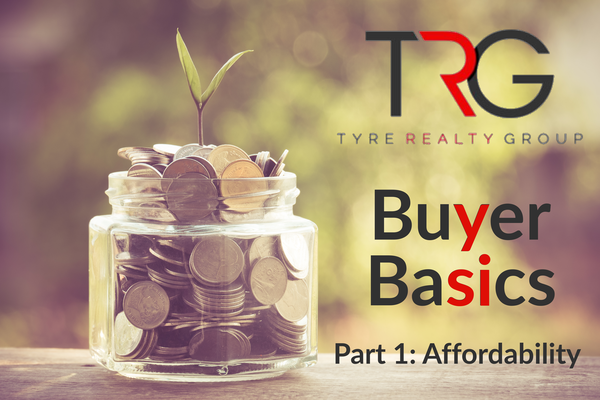 Purchasing a home is a major life milestone. It is a decision that you will remember for the rest of your life. Whether you are seeking to buy your first home, your forever home to raise your children, or your last down-size, this transaction signifies the end of one chapter and the beginning of another.
At Tyre Realty Group, we understand the magnitude of such a life decision. This Buyer Basics series is meant to help provide pivotal information to make the decision of purchasing a home much easier. Each week, we will explore and discuss different aspects of the home buying process.
To start, let's tackle the very first question you will ask yourself: Can I afford to purchase a new home? Naturally, this is a very weighted question that has many sub-questions to answer. For starters, let's figure out if this is the correct time to purchase.
As a general rule of thumb, it does not make financial sense to purchase a home unless you are certain that you are going to be in a particular area for at least four or five years. Granted, this is under the assumption that you will have to finance the home. If you are a cash buyer, then this part in the series may not apply to you. For those who are financing, the way that amortization schedules typically work, you will not start building enough equity until after 4 or 5 years. The first couple of years that you pay a mortgage, is mostly interest payments. And, as the years pass, the amount of your payment that is applied to interest lessens, as more is applied to your principle.
Now, let's assume that you are going to be in the area for at least four years. On average, your rental payment is at least marked up by thirty percent. Meaning, your rent is at least thirty percent more than what your mortgage payment will be for the same property.
Next, a common question is: How much money will I need to purchase? Again, we have another weighted question. From the start, Tyre Realty Group does not charge a retainer to utilize our services. In fact, we do not get paid unless you close on your home.
However, there will be other monies you will have to worry about once you go under contract. During negotiations, you might have to come out of pocket for Due Diligence Fees and Earnest Money Deposits. These are both negotiable, but as a general rule of thumb, let's estimate that your Due Diligence Fee is $500 for two weeks, and your Earnest Money Deposit is 1% of the sales price. Remember, these are negotiable, and our very knowledgeable Buyer's Agents will be able to negotiate the best results for you.
Before closing, you will have the opportunity to get your home inspected. If you choose to get home, HVAC, and wood-destroying insect inspection, you can plan to get these inspections for under $500.
Depending on your loan type and your lender, your down payment and funds due to close will vary. As this series progresses, we will discuss loan types with their down payments, inspections, appraisals, and more. Hopefully, you found this first introductory part to help. If you would like further information about the affordability of a home, please feel free to contact us at (252) 758-4663, and we can get you in contact with one of our knowledgeable Buyer's Agents, who are dedicated to servicing buyers only.
Lastly, make sure to follow us on Instagram and Facebook (@TyreRealtyGroup) for updates on the next parts.