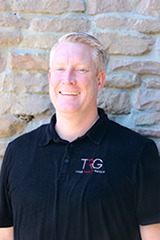 Buyer's Agent
I have a wonderful wife, Jessica, and four beautiful children: Cade, Ava, Oliver, and Adelaide. I am a huge sports fan, especially the Detroit Tigers, Michigan Wolverines, and ECU Baseball. Although my college basketball days are done, I still like to shoot hoops and coach basketball. I stay physically active through golf, tennis, and walking one of my youngsters late at night while working and/or listening to a ballgame. My background is very diverse. My first few years were spent in a foster home before eventually being adopted. As a teen, I owned my own sports card shop (with the help of my father) and worked as a baseball umpire. As I progressed through high school I played varsity basketball and baseball. While baseball is my favorite sport I proved to be a better basketball player as I walked on at Schoolcraft CC my freshman year then earned a scholarship and was named tri-captain my Sophmore year where I was All-Academic Team Honorable Mention and one of the top three free-throw shooters in the conference. Later I went on to earn a BA in Education from the University of Michigan. From there I went on to teach mostly middle school Math, Science, and Technology as well as coach boy's basketball for over 10 years. Besides teaching and working in real estate, I've also worked as a Poker Dealer and in the Fantasy Sports Industry as a writer, scout, podcaster, and online/on-air talent.
It is my belief that while passing the real estate class/exam allows me to sell real estate it is the personal and professional experiences that one brings to the real estate industry that helps set one agent apart from another and who better to have at your side than a family man who is invested in the community and comes armed to the negotiation table with a background in math, data analysis, and competitive poker playing?
All that said, I look forward to utilizing my multi-faceted background of experiences to work towards helping you secure your dream home.
Testimonials
I would highly recommend Michael Pichan for being outstanding with having a smooth process in finding a new home and location. I am very pleased. I am a first time home buyer, Michael has helped me every step of the way, through every process until the very end. I had a different agent with another company at first and was not pleased, but when I had seen what he had done for my sister in finding a beautiful home in the right price range. I had switched to Michael and wow, what a fast smooth process it was. All of my co-workers were amazed. Again I would highly recommend Michael and all who works together with him to make this possible for me. I feel truly blessed. Thank you, Michael!!!!!
Susan